Sustainability in the Operating Room
70% of waste from the healthcare sector comes from operating rooms, and labor and delivery units.
Overview of Operating Room waste in Ophthalmology
Given that ophthalmology has the highest procedural volumes of any specialty⁠—29 million cataract surgeries performed in 2019, and an expected 50 million to be performed yearly by 2050⁠—ophthalmology professionals are positioned to lead sustainability efforts for the healthcare profession by focusing on reducing waste in the OR.
We use cookies to measure site performance and improve your experience. By continuing to use this site, you agree to our Privacy Policy and Legal Notice.
Surveys of Ophthalmologists
Surveys of ophthalmologists have demonstrated substantial concern about ophthalmology's impact on global warming. More than 90% of survey respondents believe that OR waste is excessive.

Potential Environmental Effect of Reducing the Variation of Disposable Materials Used for Cataract Surgery
In this study, the authors evaluated the cataract package variability at 3 different Austrian hospitals. There were 55 different cataract package compositions which differed significantly in size and weight. The smallest package was 57% lighter than the largest package. Drapes, covers, and surgical gowns accounted for the largest portion of weight per package, and the difference in size of the smallest and largest drapes was 71%. This variation is surprising since the technique of cataract surgery is essentially the same throughout Austria. This article highlights the fact that material procurement in cataract packaging is an area where carbon dioxide emissions could be mitigated.
Factors Contributing to the Carbon Footprint of Cataract Surgery
Taboun et al. conducted a literature review on the carbon footprint in cataract surgery. They analyzed six relevant papers in their review and found that the estimated carbon footprint per phacoemulsification procedure ranged from 6 kg CO2 - 181.9 kg CO2. The main factors contributing to the carbon footprint were the procurement of pharmaceuticals, medical equipment and the use of disposable items. The authors also highlighted the sustainable practices of Aravind Eye Centre, which serves as a model for safe and eco-friendly care.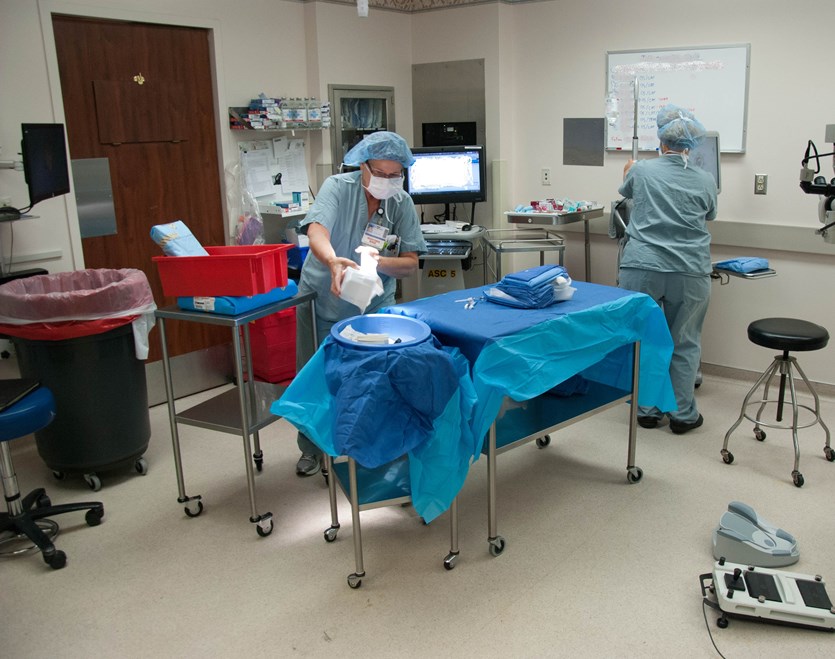 Calculate the Carbon Footprint of Your Operating Room
The EyeSustain-Zasti Carbon Footprint Calculator will help you understand the impact of your operating room carbon emissions. By answering some basic questions about your facility size, surgical volume, and estimated waste, you'll receive an estimated carbon emissions report based on multiple data points from various cataract surgeries.
Key Topics that Impact Sustainability in the Operating Room