About
EyeSustain is a global coalition of eye societies and ophthalmologists collaborating to make ophthalmic care and surgery more sustainable.
The EyeSustain Mission
Engage, network, and educate our global ophthalmic community about more sustainable practices

Collaborate with industry to reduce our carbon footprint and surgical waste
Support research and innovative solutions that reduce ophthalmology's environmental impact
Collaborate with other medical specialties to reduce the carbon footprint of our healthcare system
Support advocacy and education about the public health impact of climate change
Meet Our Leadership
Needless Waste and the Sustainability of Cataract Surgery
Few health care settings are as regulated as the operating room (OR). Whether cataract surgery is performed in an ambulatory surgery center or a hospital outpatient department, OR licensure, accreditation, and regulatory compliance entail enormous costs. Operating room regulations to prevent surgical infection govern the physical facility (e.g., ventilation), staff (e.g., attire and hand hygiene), protocols (e.g., instrument cleaning and sterilization), and supplies and drugs (e.g., single vs multiuse).

Recent studies from the Aravind Eye Care System (AECS) in southern India demonstrate a significant reduction in the postoperative endophthalmitis (POE) rate following routine adoption of intracameral moxifloxacin prophylaxis. Excerpted from an Ophthalmology editorial by David F. Chang MD.
Continue Reading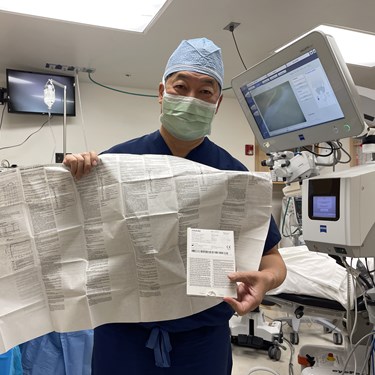 Ophthalmologists concur: We are wasting too much
The healthcare sector accounts for nearly 9% of all carbon emissions in the United States. Operating rooms (OR) are the single largest contributor to this disproportionately high environmental footprint.
Globally, the institution of rules and requirements that are often not evidence-based may be unnecessarily increasing cost to the healthcare system and patients.

In a survey with more than 1,000 ophthalmologist respondents, 93% felt that OR waste is excessive, 91% were concerned about global warming, and 87% wanted their medical societies to advocate for reducing ophthalmology's carbon footprint.

Beyond its environmental and financial impact, needless surgical waste may contribute to periodic supply shortages. Having the highest procedural volumes in medicine, ophthalmology has a unique opportunity and obligation to lead efforts to make healthcare more economically and environmentally sustainable. This can have a major impact on global blindness where eye care and surgery in low to middle income countries is often constrained by limited resources.

To learn about the attitudes of eye surgeons and nurses toward surgical waste, a survey was conducted of members of ASCRS, AAO, OOSS, and the Canadian Ophthalmology Society.